Included Components

Gorilla Grow Tent 2′ x 4′ x 6'11″ (7'11″ w/ extension)
The very best and tallest, thickest, and strongest grow tent available. This is the only height adjusting grow tent available worldwide. GROW STRONG!
Kind LED X420 Grow Light
Kind LED is excited to announce the latest innovation in LED Grow Lights Technology—the brand new X Series. The successor to our K3 series of fixtures, the new X220, X330, and X420 fixtures combine the tremendous innovations of our flagship X² fixture with a brand new form factor optimized for the home grower.
Premium Carbon Filter
Every great grow room has a top-of-the-line carbon filtration system. With premium carbon filters, you don't cover up odors, you eliminate them. Keep those pesky aromas at bay to ensure your grow remains safe and discreet.
SuperPonics 16 Hydroponic Grow System
The SuperPonics 16 combines automated top feed and Deep Water Culture, assuring you the best, easiest, fastest, and safest grows over any other method. SuperPonics is the fusion of multiple proven hydroponic methods into a single system, creating unparalleled yields in quality and total. These systems are incredibly easy to use and are fully automated. SuperPonic systems grow up to 2-5X faster and bigger than any single traditional hydroponic method. SuperPonic systems are also safer due to the fact that if one of the methods goes out for any reason (air pump or water pump) your plants will still survive and thrive.
Lotus Premium Plant Nutrients Sample Kit
LOTUS Nutrients is a more complete, 3 part nutrient line that replaces the need for complex 8-10 part recipes. The pure, 3 part system gives your plants everything they need to for development from seed to harvest, giving you unmatched results in flowering and fruiting plants. Specifically formulated for medicinal plants and comprised of 15 unique raw, natural ingredients including 13 essential macro and microelements as well as raw materials including seaweed plant extract, humalite, and plant protein hydrolysate.
LOTUS Nutrients are 100% water soluble formula milled and blended to provide perfect consistency and contains no binders, fillers, or dyes. The LOTUS Starter Kit comes with Pro Series Grow, Boost, and Bloom nutrients and will get you growing seed to harvest from day one! The Lotus Nutrients sample pack includes an 4oz pouch of Grow, 4oz of Bloom, and 2oz and Boost. This should be enough to treat over 17 gallons of water in the vegetative stage and 8 gallons in the flowering stage.
Support
Each package comes with the Grow Tips manual, a 1-month warranty, and lifetime customer service. With your SuperRoom you will harvest better on your very first yield than people who have been growing for years. You will receive lifetime grow support and consultation. All SuperRooms are easy to set up, fully automated, and come with A+ BBB customer service. Competitors will sell to you and forget you. Don't grow alone, grow with support. Welcome to the Super Family.
HEIGHT ADJUSTING ROOF*
ALL STEEL INTERLOCKING FRAME
DIAMOND REFLECTIVE INTERIOR
INDUSTRIAL STRENGTH ZIPPERS
DOUBLE CINCHING DUCT PORTS
EZ VIEW WINDOWS
REAR ACCESS DOOR**
HEAVY DUTY SPILL TRAY
INTEGRATED TOOL POUCH
MICRO-MESH PRE-FILTERS
*1' Extension kit sold separately
**Not available on smaller sizes
With the optional one-foot extension kit, you will be hard pressed to outgrow your Gorilla tent, ensuring your grow can get as high as possible.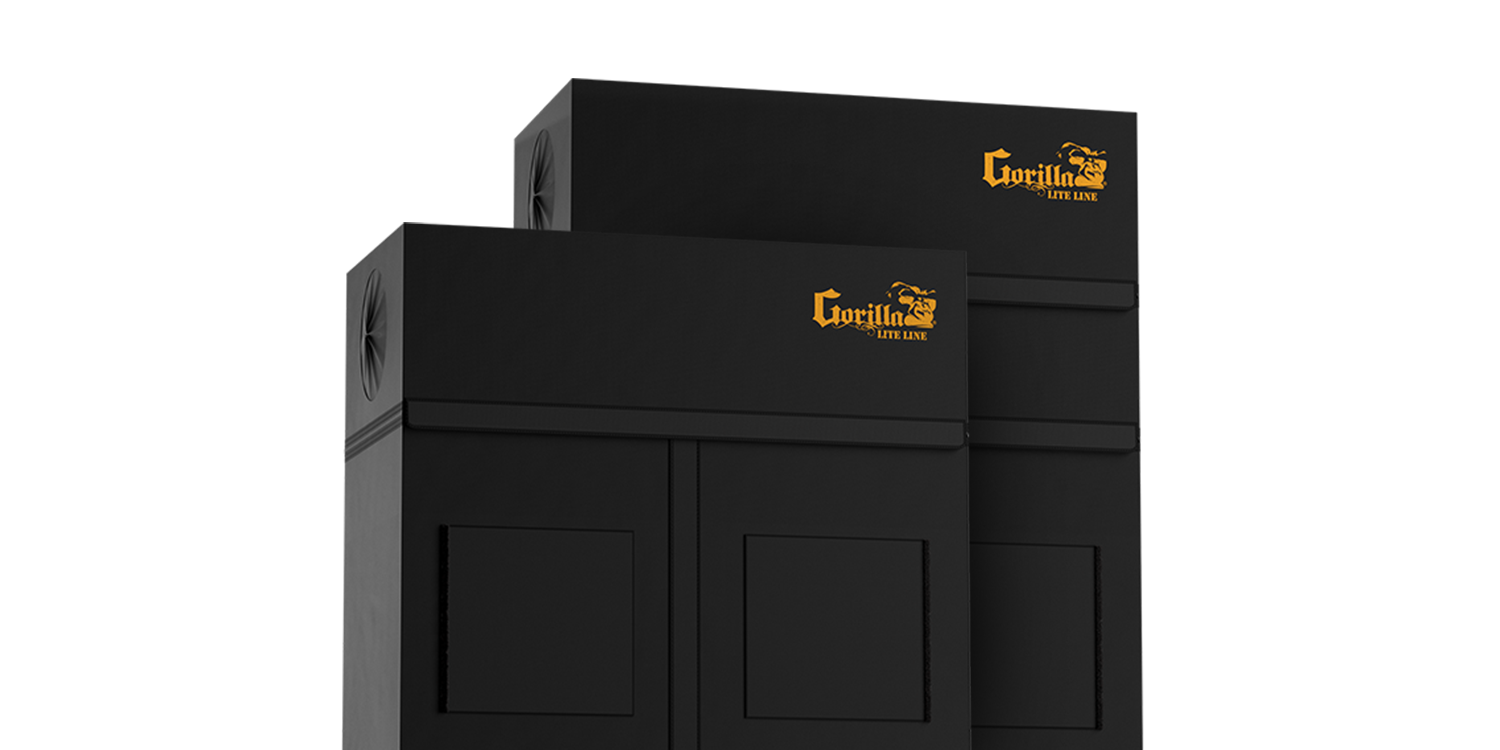 All Steel Interlocking Frame
Powder coated steel poles with interlocking pins create a super strong frame that can withstand years of growing rigors.
Dual Cinching Ducting Ports
Conveniently placed dual cinching duct and electrical ports keep your tent light tight, while providing optimal locations to run cords and ducting.
Industrial Strength Zippers
Highest quality zippers to ensure easy access to your grow and long lifespan.
All Gorilla Grow Tents come standard with features like micro-mesh vent screens, a conveniently place tool pouch, EZ view windows, and rear access door (on larger size tents).